YES! It is important for children's literacy. Wordless picture books are related to visual literacy and it helps children develop their oral language and in writing skills. As children have wordless picture books, they can learn more vocabulary, useful sentences, fluency on writing, and story-telling skills. Not only children's prediction skill will be developed but also they will be easily interested in reading wordless book. The reason they will enjoy reading the books is there is no limitation or stated stories so children can make any stories whatever they want. Students sometimes struggle with finding ideas or topic for writing or storytelling. Wordless picture books are will be really good for every child such as language beginner, ESL students, child with special needs, and even language competent children.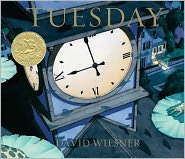 The Snowman

by Raymond Briggs




All in a Day

by Mitsumasa Anno
For some activities for wordless picture books, teachers can ask comprehension and critical thinking questions, for examples, where, who, what, how, and why. Children also should be taught grammatical structure such as using the past, the plural, and so on. Having students find all the words that begin with a particular sound will be good for reviewing phonic. Having a lesson for synonyms and antonyms is also a good activity. Lastly, practicing putting sentences in the correct order will enhance children's sequencing skills.
Teachers also have some important roles for children to have wordless picture books. They can set up recording area so children can check and develop their oral language skills. Sharing stories with other classmates or parents can encourage children to be proud of themselves and also other classmates will learn various interpretations of the stories. Finally, teachers should forget to give a lot of praises and attentions to children.